Daniel Pipes: Policy and Politics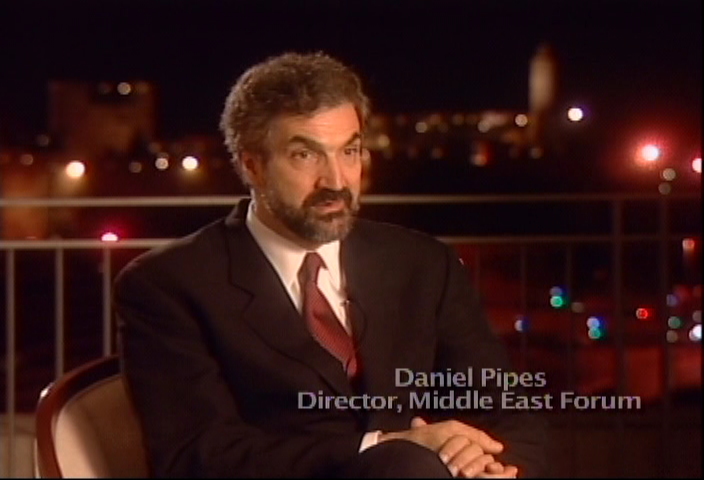 Daniel Pipes is a political commentator whose work focuses on the Middle East, Islam and Israel. An accomplished academic who has taught at Pepperdine, Harvard and the University of Chicago, Pipes is an influential personality in policy circles. He has served on the board of the U.S. Institute for Peace and Middle East Forum, and is the founder of Campus Watch, which maintains lists of academics who hold pro-Palestinian or anti-Israeli points of view. Pipes is perceived as a divisive figure: "Among his supporters, Mr. Pipes enjoys a heroic status; among his detractors, he is reviled," according to the New York Times.
Pipes, the son of anti-Soviet historian Richard Pipes, was born in 1949. He received a bachelor's degree in history from Harvard University in 1971 and a Ph.D. in history in 1979. Pipes stands out among those interviewed in "Obsession" as having spent time studying Islam and Arabic in the Middle East and North Africa. After receiving his bachelor's degree in 1971, Pipes spent two years in Cairo studying Arabic and the Quran.
In the late 1970s, Pipes shifted his academic interest from medieval Islamic history to modern Islam. From 1972 until 1986, Pipes held a series of teaching positions at the University of Chicago, Harvard and the Naval War College. In 1986 Pipes ceased to work as an academic and, instead, pursued a career in policymaking circles.
In 1990, Pipes organized the Middle East Forum, a project of the Foreign Policy Research Institute. The Middle East Forum "seeks to define and promote United States interests in the Middle East. It defines U.S. interests to include fighting radical Islam, whether terroristic or lawful; working for Palestinian acceptance of Israel; improving the management of U.S. democracy efforts; reducing energy dependence on the Middle East; more robustly asserting U.S. interests vis-à-vis Saudi Arabia; and countering the Iranian threat."
Middle East Forum became an independent organization in 1994, with Pipes continuing as its director. The Forum established the controversial Campus Watch in 2002.
Campus Watch encourages students to submit information about professors who are seen as anti-Israel, or pro-Palestinian. The "list" of academics which did not fit with Campus Watch's pro-Israel views led to one hundred academics signing a letter to condemn the list as a "McCarthyesque hunt by a pro-Israel think tank." Pipes responded by threatening to put the 100 academics who protested Campus Watch's tactics "on a new list under a label of people who associate themselves with suicide bombings and militants." Read about it here in the San Francisco Chronicle.
Professor Rashid Khalidi of the University of Chicago stated: "This noxious campaign is intended to silence such perfectly legitimate criticism, by tarring it with the brush of anti-Semitism and anti-Americanism, truly loathsome charges. They reveal the lengths that these people apparently feel impelled to go to in order to silence a true debate on campus." Read Prof. Rashid Khalidi"s statement here in this ADC press release.
Statements on Islam made by Pipes cross the line into outright racism and exhibit an attitude of extreme paranoia. He described Muslim immigrants as "brown-skinned peoples cooking strange foods and not exactly maintaining Germanic standards of hygiene." Read an analysis here by the Political Research Associates.
In a 2007 response to a planned terrorist attack on Fort Dix, Pipes commented: "Immigrants seeking refuge in the West must be grilled for their attitudes toward our civilization, our religion and politics. Whether it be Somali refugees in the United Kingdom, Algerian ones in France, or Balkan ones in the United States (remember the Salt Lake City shooter in February, as well as four of the current six accused terrorists [involved in the Fort Dix plot]), individuals given the privilege and benefits of a new life then with some regularity turn around and attack their adopted fellow citizens. This unacceptable pattern has to be scrutinized to prevent future such atrocities."
Pipes has shown a deep distrust of Muslims and has made a career out of battling "radical Islam." Pipes is an "anti-Arab propagandist," claims The Nations' Christine McNeil.
After President George W. Bush nominated Pipes to the board of the U.S. Institute of Peace (USIP) in 2003, a congressional filibuster occurred when representatives expressed disgust at the Bush Administration's decision to align itself with such a radical and intolerant figure. "Senator Tom Harkin (D-IA) spoke at length about how offended he was, as a child of immigrants from Europe of the Catholic faith, by Pipes' anti-Muslim commentary. Senator Harkin said, 'Some people call [Pipes] a scholar ... but this is not the kind of person you want on the USIP.' He added, 'My state has the very first mosque ever built in the United States … in Cedar Rapids, Iowa, and Muslims are a vibrant part of our diverse community.' " Read about the stalled nomination here, in the Baltimore Chronicle.
The uproar and publicity caused by the filibuster led the Bush administration to distance itself from Pipes' incendiary remarks on Islam and immigrants. "Mr. Bush disagrees with Mr. Pipes about whether Islam is a peaceful religion," said Whitehouse spokesman Ari Fleischer.
Pipes continues to serve on the board of Middle East Forum. He is a columnist for the New York Post and Jerusalem Post. He regularly shares his opinions on his blog, where his articles appear in over thirty languages.