Steven Emerson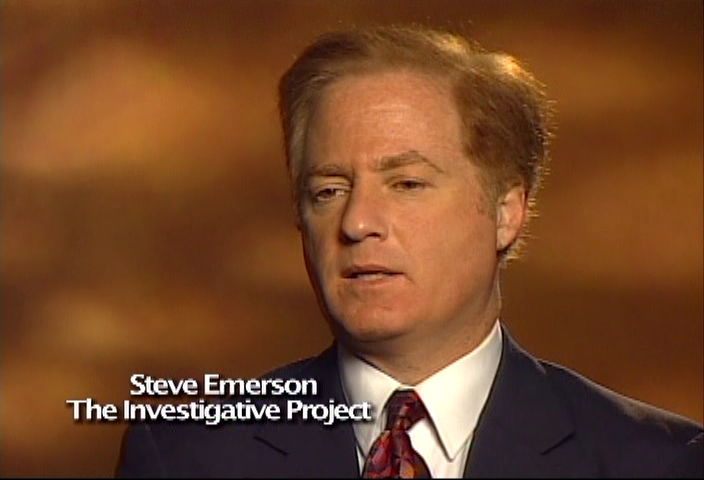 Steven Emerson, the director of the Investigative Project, describes himself as, "one of the leading authorities on Islamic extremist networks, financing and operations." However, his 1990 book, The Fall of Pan Am 103 was discovered by the Columbia Journalism Review to contain plagiarized sections, and the New York Times warned, "…the authors raise equally serious charges of Iranian complicity in the bombing. But instead of weaving these revelations into the day-to-day story of the investigation, they drop them almost casually at the end, without much substantiation."
Emerson has gained a reputation of being quick to suggest Muslim terrorist conspiracies when there is little evidence. After the 1995 Oklahoma City federal building bombing, which, it was later discovered, had been perpetrated by a right wing, American anti-government extremist, he suggested that Middle Eastern terrorists were behind the attack when he told CBS that the bomb was intended, "to inflict as many casualties as possible. That is a Middle Eastern trait."
According to Fairness & Accuracy in Reporting, Emerson was also tied to a false 1998 report that Pakistan was planning a nuclear first strike on India. When asked to comment on how Emerson is perceived by other journalists, famed investigative journalist Seymour Hersh responded, "He's poison." Nevertheless, Emerson often appears on Fox News and MSNBC.
Real threats, bravado, paranoia or a combination of the three have led Emerson to become increasingly secretive about his movements. "People who visit Emerson's D.C. office must be blindfolded en route, and employees call it "the bat cave," reports Slate.
Emerson, who received a BA from Brown University in 1976 and a MA in Sociology in 1977, worked on the Senate Foreign Relations Committee until 1982, according to a biographical note in the book he subsequently published, Secret Warriors: Inside the Covert Military Operations of the Reagan Era. His educational and early professional record suggests he has little or no background in Middle Eastern affairs or languages.
After leaving the Senate Foreign Relations Committee Emerson worked as a freelance journalist calling attention to the influence of Saudi Arabian interests over major US corporations. He went on to work for CNN and US News and World Report continuing to focus his reports on the growing influence of Arab governments and terrorist cells in the United States.
Mainstream media sources have given less credibility to Emerson's reports after he reported a series of false and misleading stories in the 1990s.