Israeli Deputy Prime Minister Terms Palestinian State Victory for "Jihadism"
Moshe Ya'alon Headlines Jewish-Christian Program at Los Angeles Synagogue
By Frances Vega, JewsOnFirst.org, December 12, 2010
On December 5, 2010, during the fifth night of Hanukah, Sinai Temple in Los Angeles called residents of the Los Angeles community to listen to a "special message" from Israel's deputy Prime Minister Moshe "Bogey" Ya'alon. The message -- and those of speakers representing sponsoring groups -- was largely focused on opposing "radical Islam" and the establishment of a Palestinian state, which Ya'alon (pictured right) portrayed as a victory for "jihad."
The event was sponsored by a variety of groups on the pro-Israel right, the Los Angeles Jewish Federation, Israel Christian Nexus, La Iglesia en El Camino and Arabs for Israel. Speakers from many of these organizations spoke before the deputy prime minister to emphasize his message.
One of the first speakers of the night was the founder of the Israel Christian Nexus, General Shimon Erem. According to its website, the Israel Christian Nexus aims to strengthen the alliance between Jews and Christians in defense of their "shared Judeo-Christian values." The group says that it educates and mobilizes the two communities for sustained action in solidarity with the nation and people of Israel.
General Erem, who served in the British army during World War II and has been a community activist in L.A. for many years, began his speech by saying that the event was "the first mobilization of our community." He then told a story about the Holocaust and how, with Christian allies like today's Christian Zionists, it might have been prevented.
Christians "closest friends of Israel"
"After visiting the death camps, I have not the slightest doubt that if in every country in Europe, France, Belgium, Holland, Germany, Poland, Hungary… we would've had the presence of the Christian community which is supporting Israel to the tune of between 30-50 percent of the population, this would not have happened. And it's not going to happen here because we have it here," Erem said. "Tomorrow we are going to have in Orange County 3,200 Christians, among them between 150-180 pastors and they are the closest friends of Israel. At least as close as the Jewish community if not more."
Erem's story about the Holocaust helped him lead into his main message of the night, the threat that radical Islam poses to the U.S. and Israel.
"It is a mobilization for two reasons, both of them affect every single one of us here, it will affect our children and grandchildren," Erem said. "There are already in this country, cells of Al Queda and cells of Hezbollah. They are crossing the border with the help of the drug people. They are here and we have to stop it. And who can do it better than a joint coalition of Christians, Jews, and moderate Muslims. This must be done without delay."
Erem went on to say that those in charge of immigration in the U.S. need to be alerted of the dangers posed by radical Muslim groups. He said the U.S. must keep Iran from acquiring nuclear arms because the consequences would be catastrophic. Erem also gave a warning, stating that, "if we do nothing, we will be very sorry."
The audience agreed with his message and gave the general a standing ovation.
Many pastors and Christian leaders attend
The audience of about 300 was a combination of Jewish and Christian members of the local community. Many pastors and Christian leaders from various churches throughout the Los Angeles area were also in attendance.
The president of the Jewish Federation, the major fundraising organization for Jewish charities in Los Angeles and Israel, Jay Sanderson, spoke after the General. Sanderson spoke about the importance of working together with Christians to help the state of Israel. He also introduced some of the Christian speakers for the night.
Several Christian pastors gave speeches reiterating the main message of the night. They emphasized the need for Christians to support Israel and work against radical Islam. Christian speakers and special guests for the night included Jim Tolle from La Iglesia en El Camino, Roger Cochran from Calvary Chapel in Long Beach, and Angela Evans from the Crenshaw Christian Center.
Pastor James Allen Tolle (pictured left) is the senior pastor of La Iglesia en El Camino (the Church on the Way) in Van Nuys. It is a Spanish-speaking evangelical Christian church. The majority of Tolle's sermons are in Spanish. He also hosts a Spanish language radio show called Respuestas (Answers).
Pastor praises Ya'alon
Tolle opened his speech by saying, "Right now as we are here at the campus of the church I pastor, there are 10-15,000 people for an event, I chose to be here to show my solidarity with Israel."
Tolle spoke about Ya'alon and what Tolle termed the great things Ya'alon has done for the state of Israel. Tolle called "Moshe" a great example to the U.S. He said he himself is a supporter of Israel because of its love of life and liberty.
"I partnered with Israel because I love its history. Its history has prevailed during all seasons of its existence even in the face of the most atrocious things done against it. I partner with Israel because I love its perseverance. Truly every free society is indebted to Israel for its persistence," Tolle said.
The Consul General of Israel, Jacob Dayan, followed Tolle's speech. Dayan is the senior representative of the State of Israel in the southwestern United States. Dayan spoke about the recent forest fire in Israel in which 41 people died. He expressed his appreciation for all the calls he has received and all the support the U.S. has given the state of Israel. He then went on to speak about Jewish identity.
"I want to speak about an internal fight that the Jewish people have been fighting for the last 2,000 years," Dayan said. "This fight is for our identity. We are still fighting this fight today, every generation. If you look at society, the people here are fighting for their Jewish identity. Today, here, you choose to be a Jew. Each and every one of you is a Jew by choice. You don't feel the anti-Semitism like you do in Europe; you don't feel the threat, but still each and every one of you choose this identity. And this is an on-going fight that we have battled for 2,000 years, a fight that we have to win."
Dayan said the same fight is going on between Western culture and the radical world. He said there is a fight between dictatorship and the free world. According to Dayan, the world needs to fight extremism and keep equality and freedom. He said Iran represents the extremism that the world needs to fight against.
Deputy Prime Minister Ya'alon spoke immediately after Dayan. He spoke for almost an hour. His message was the same as those of the speakers that preceded him. Ya'alon also asserted that the issues between the Arab world and Israel do not have to do with territory. He said it is a myth that giving territorial concessions will create peace between Israel and the Palestinians. According to Ya'alon there is a fundamental problem with the way Islam views Judaism.
"This conflict is about our very existence," Ya'alon said. "Can we give up our very existence?"
State would be a victory for "jihadism"
He said education is the key and that the Jews and Christians must empower moderate Muslims to strive for peace.
Ya'alon emphasized that creating a sovereign Palestinian Arab state at this stage of unpreparedness would constitute a victory for global Jihadism.
"Former Muslim" Darwish savages Islam
Nearly half the attendees left after Ya'alon's speech ended, even though he was not the last speaker. Former Muslim, Nonie Darwish, founder of Arabs for Israel, spoke after Ya'alon. Darwish (pictured below), who converted to Christianity after moving to the US from Israel in 1978, spoke about the hate she claimed she learned growing up with Islam.
"What we learned was nothing but Jihad and martyrdom," Darwish said. "They taught us that Jews are monsters."
Speaking passionately about her love for Israel, Darwish went on to say that the U.S. needs to give more support to Israel.
"We never hear Western leaders or media asking Palestinians for concessions," Darwish said.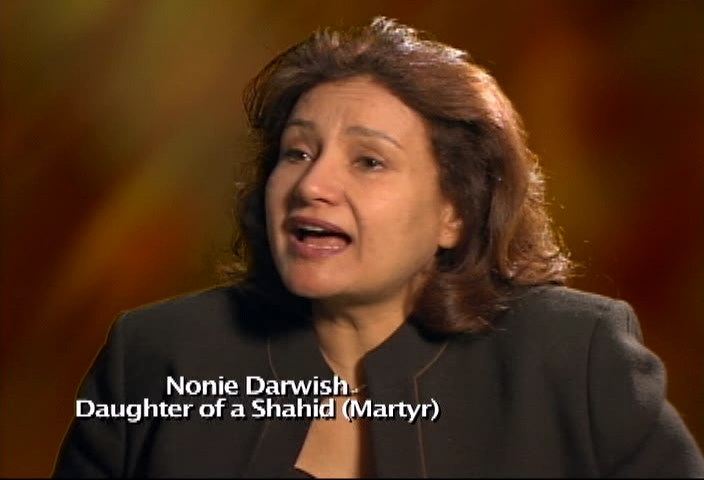 Darwish also said that peace would only happen when there is an Islamic Reformation that dramatically changes what Islam stands for.
A Christian leader in the audience, David Wood, said in an interview following the program that he was inspired by the messages he heard from the night's speakers.
"I think I realized that this is a fight that we're all on. The U.S. and Canada and all of these other nations need to stand up even more than they are now," Wood said. "I wish there were more of us here today, I think the place was only about three quarters full. We still have to get the word out. I think the United States is still kind of asleep at the wheel in a lot of areas and obviously there are some other agendas here that aren't good ones, in the U.S."
Wood said he wished everyone could get along, but that he realizes it's not always that simple.
"I think both sides have to take some responsibility, but at the end of the day we're one planet. We're in this together and we need to start thinking more globally like that," Wood said.
Director of Israel Christian Nexus: Arabs "addicted" to hatred of Jewish people
Director of the Israel Christian Nexus, Gary Dalin said the event's primary purpose was to give deputy prime minister an opportunity to address the American people.
"He was able to explain to the American community the real principles behind what's going on in the Middle East today. The essence of his story was that we all need some moral clarity," "Moral clarity says we have to understand what the conflict is about, since 1948 that conflict was against the Jewish people and against their existence in the Middle East."
Dalin said a core principle of the Israeli side is that peace will not be accomplished until Arabs resolve to end their hostility to the Jews as a people and as a religion. He said Arabs are addicted to hatred of the Jewish people and that Ya'alon who is speaking in various U.S. cities, came to make that message clear to the Los Angeles community.
Photographs by Frances Vega
TOPIC: Christian Zionists